In Spring of 2019, two classmates and I worked on creating a user interface for a new product we developed, called "Slate", a Smart Mirror. Throughout the process, we developed a persona to design for, sketched and fully prototyped our interface, and completed a full research report.
Group: Steven Nguyen, Ashley Chen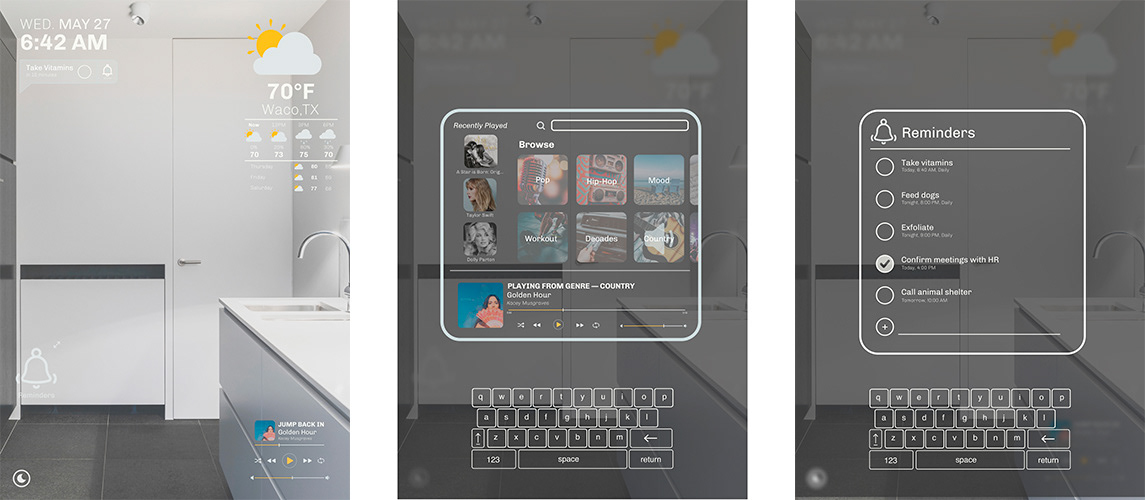 Abstract
Slate acts as your dashboard for everything you need, making your routines easier. Getting ready in the morning or wrapping up the day at night is made simple with a view of the weather forecast, calendar, news, notifications, and more. Fast wireless internet connection provided from Slate's external app makes productivity easier. Slate syncs to your calendars, music streaming services, and more, making it a completely customizable experience. Slate can also remind you to take medicine, follow a skincare routine, or even to brush your teeth before you leave.
Using a pressure sensitive screen, Slate serves as a touchscreen mirror to assist you in your daily tasks. The use of a mirror as a base with a glass and plastic film with a grid of electrical conductors results in a highly responsive and multi-functional product. Coding from multiple sources and languages are used to create the technical wireframe and interface to produce the responsive functions of the mirror. This product widely diversifies the purposes of mirrors in homes. The range of capabilities that other intelligent mirrors have out today are very limited and also presented non‑commercialized platforms and more of an innovative idea or project than a fully developed and marketed product.
Ethnographic Interviews
Our team interviewed eight people with ages ranging from 18 to 60. In our interview, we asked the following questions with the intention of learning people's goals:
How does your phone influence your morning routine?
What apps do you use before going to bed at night or getting ready in the morning? Such as weather,  calendar, reminders, alarms, traffic, maps, etc.
Do you own a smart speaker? How does it influence your morning/nightly routines?
Do you stream music/news/podcasts/etc in the morning/at night?
How does using your phone enhance or inhibit your morning/nighttime routine?
Persona
After conducting research on similar products and other products in the same domain, as well as conducting interviews, we developed a persona with a few specific goals:
• A peace of mind when getting ready in the morning and going to bed at night
• Time to focus on herself and plan her day - not distracted by emails and messages on her phone
• See her day at a glance
• View the weather because she spends a lot of time outdoors.
• Remind her to do things that are more routine, like take her vitamins and feed her dogs.
• Allow for more time in the morning and night without her phone in her hand, maybe even get some more sleep
Interaction Framework
We initially sketched the design interface, while discussing visual language possibilities as a team.
Wireframes
In Figma, our team designed the interactive wireframes for our mirror, then conducted usability tests to determine what we needed to change. In the usability tests, we discovered that there were aspects of the interface that were common areas of confusion for the user, so we made the necessary changes.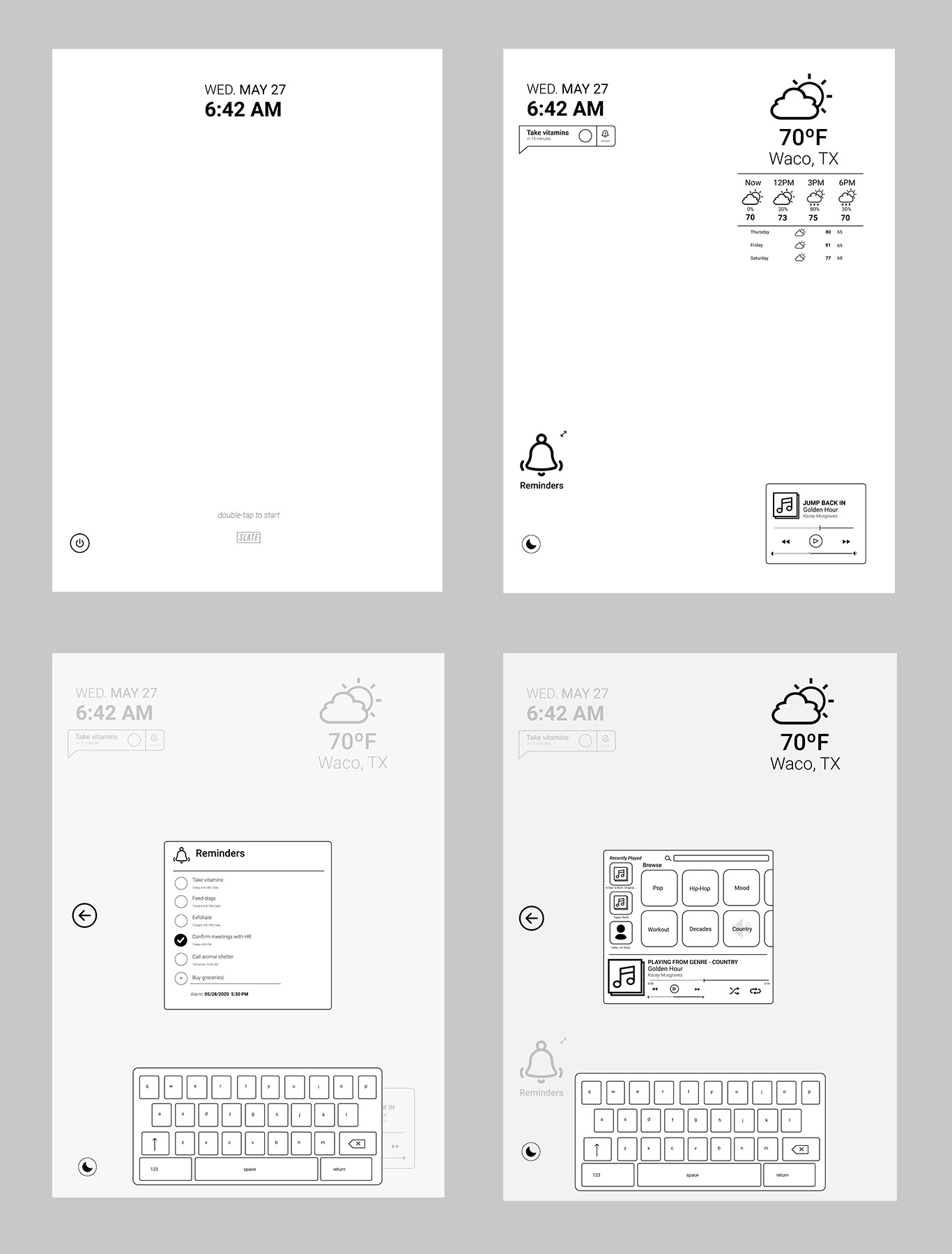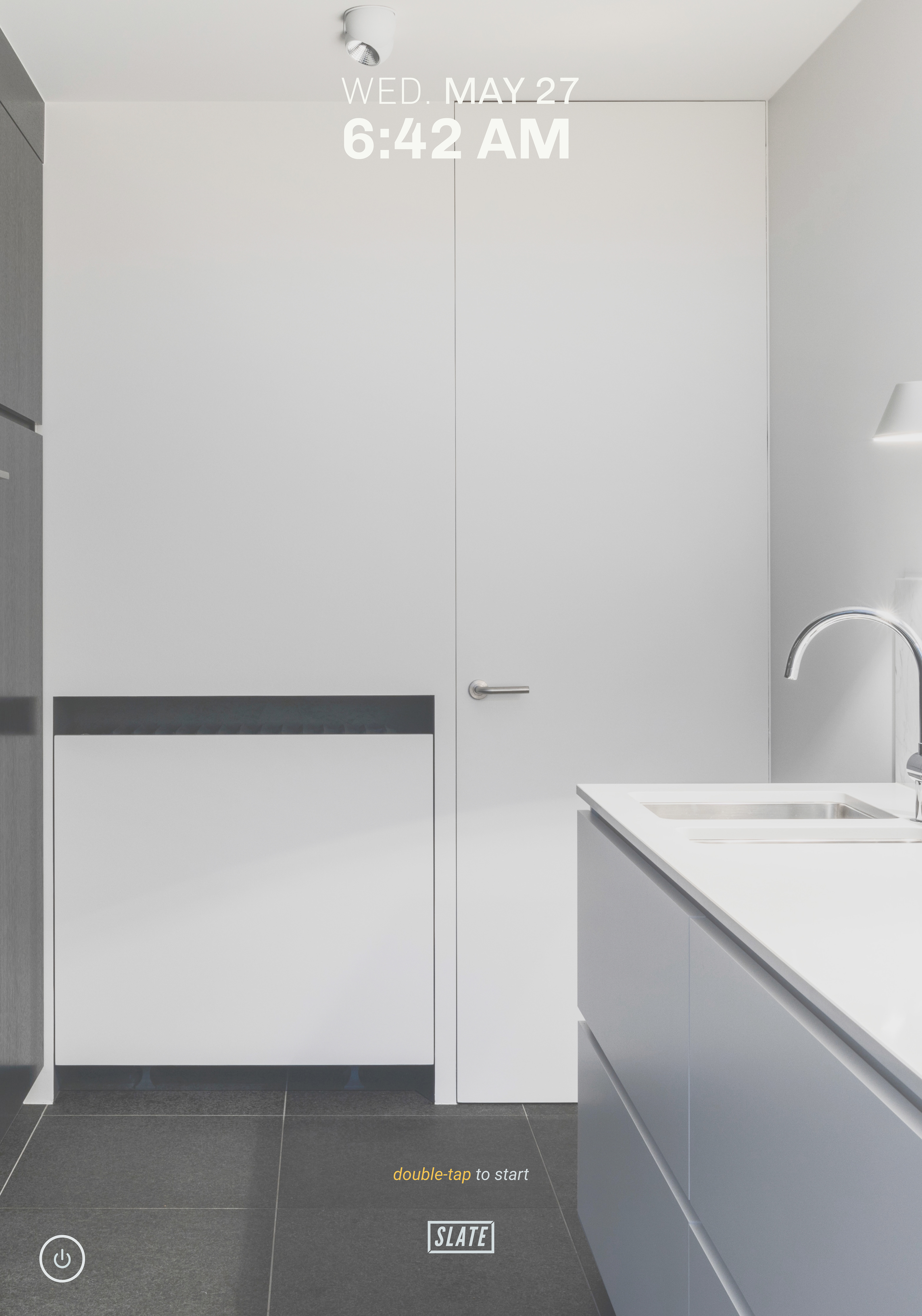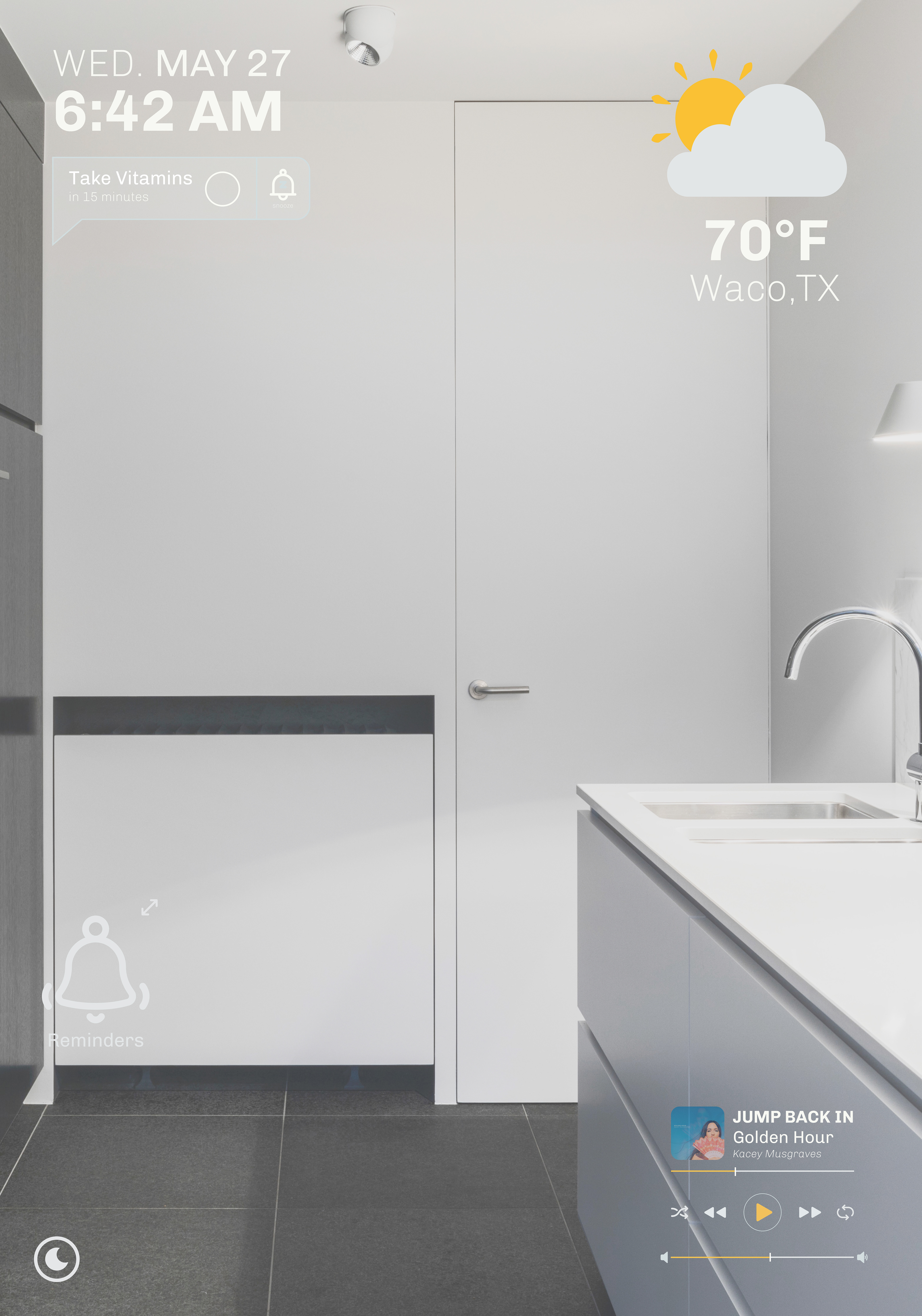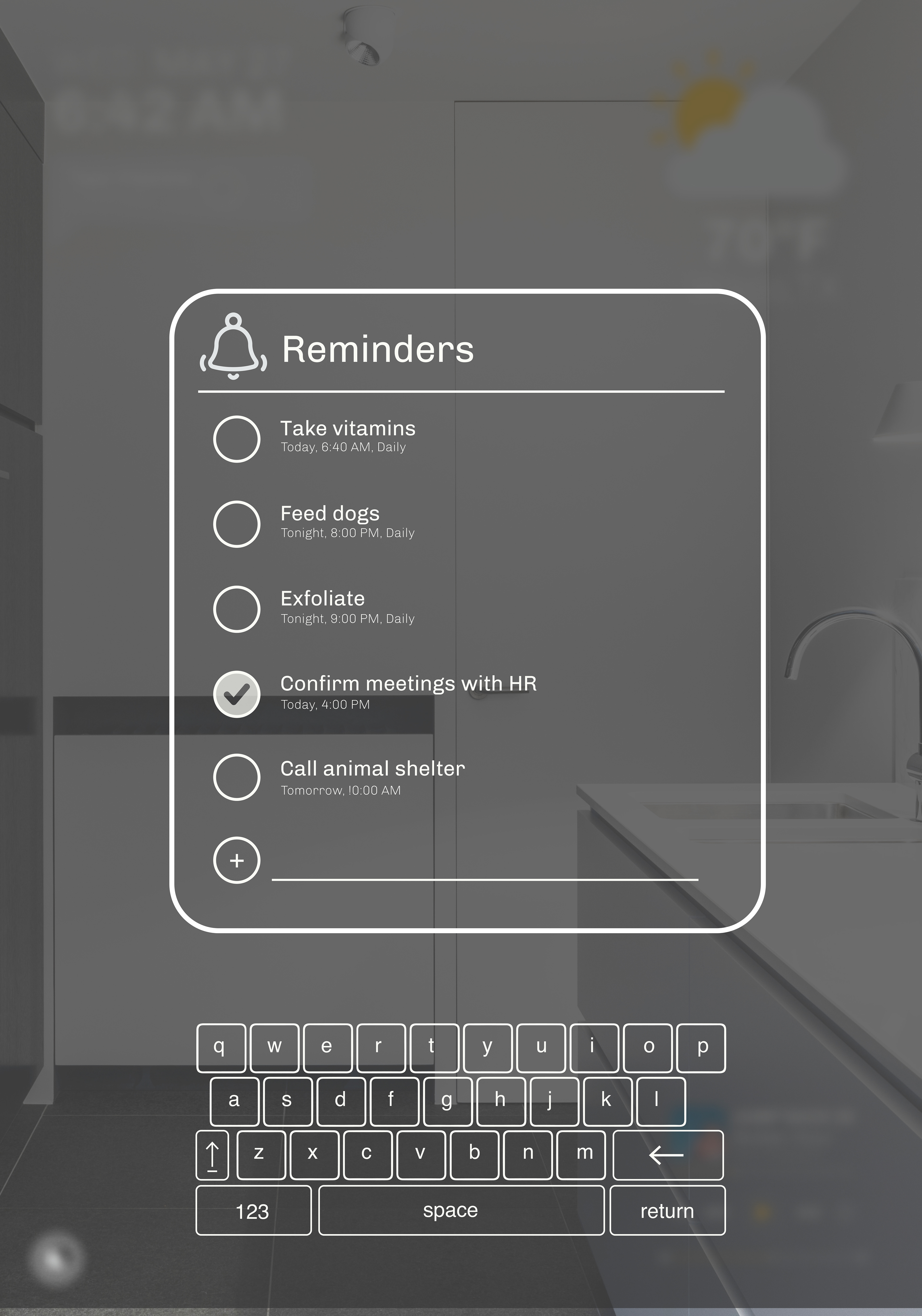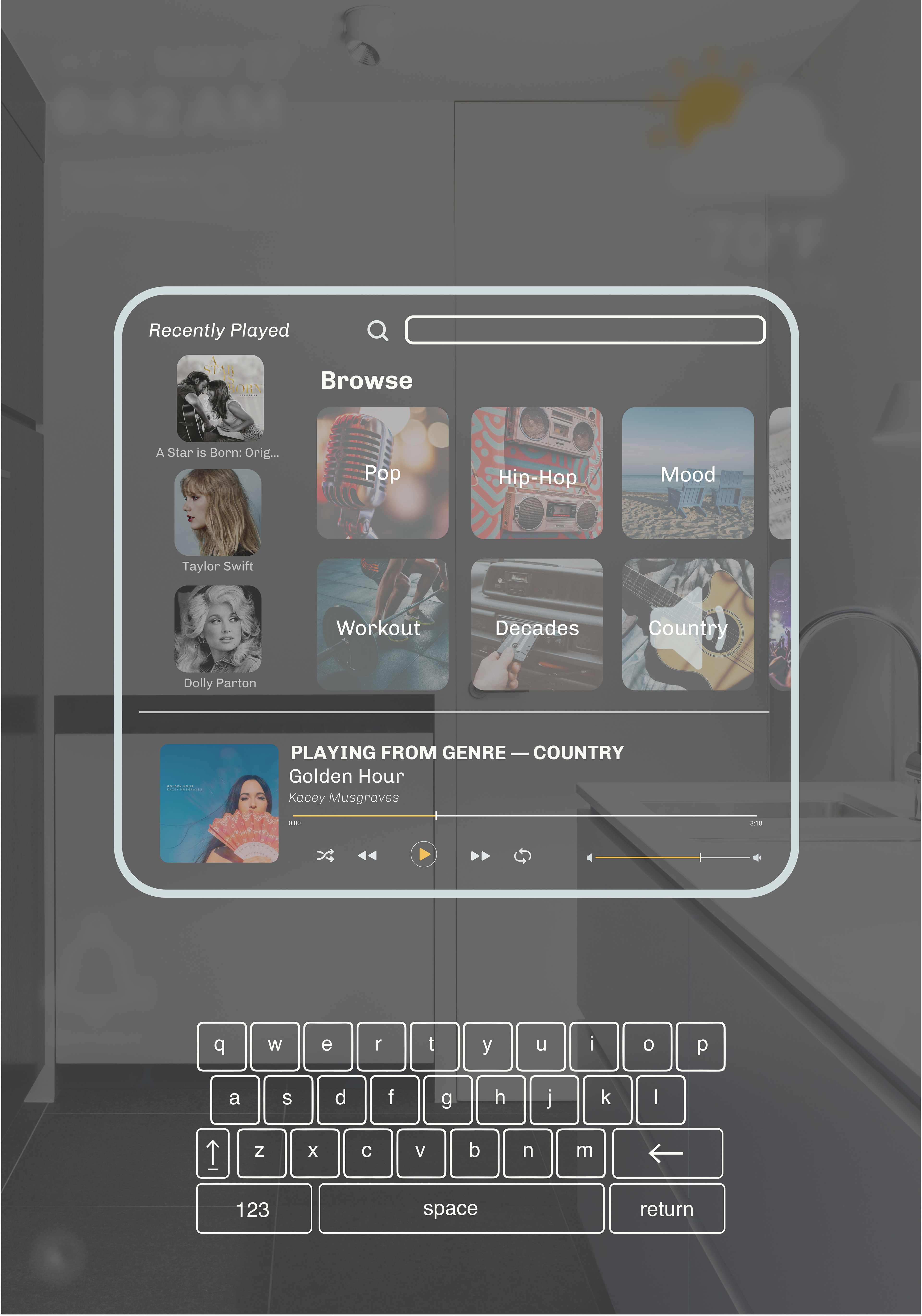 Ethical Considerations
With our product being something used mostly in a private setting, there are many considerations we must take to ensure consumer trust and approval. We expect our users to use the product to augment their morning and nightly routines- not for purposes such as surveillance, recording, or other malicious uses. Considering our users' privacy, the team decided to omit the use of microphones or cameras on the mirror. This would also be promoted in the marketing of the product to ensure that their privacy will not be intruded on with the product. Limiting features to only music, reminders, and weather, we ensure that the mirror won't become almost like another smart-phone to them, but rather something more filtered and tailored to their common routines.