For my senior project, I worked with Eleven Eleven Salon, a recently opened hair salon in San Luis Obispo, to develop a logo, website, and style guide for them to use. We worked together to create a beautiful, clean aesthetic for their business.
With this project, I wanted to create something that I could be proud of, as well as something that helped a small business.
After stages of editing and refining the logo, I ended up with two final versions.



The wordmark logo uses Special Elite as the typewriter typeface, and Aktiv Grotesk as the typeface for the all uppercase "salon".
The monogram logo will be used in place of the wordmark when space is limited, or a more square aspect ratio is required.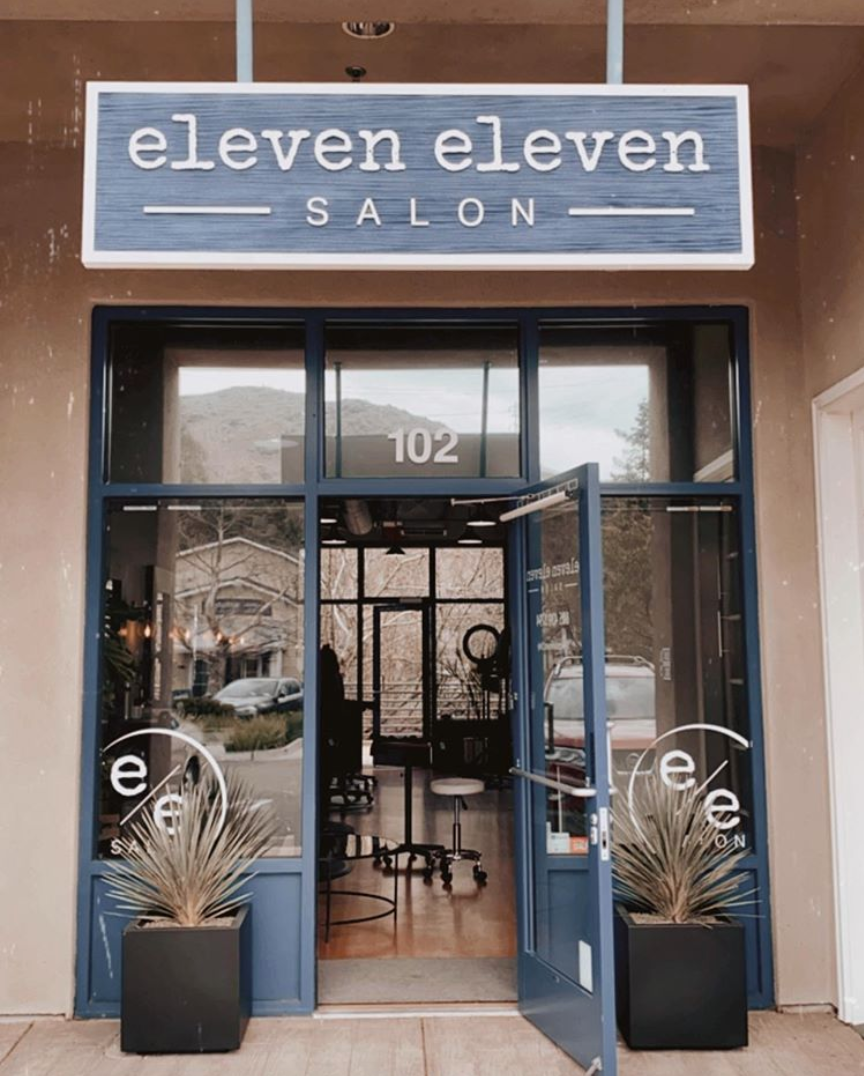 Website Design
The bulk of my time on this project was spent creating the website. I spent a couple of weeks researching, organizing, prototyping, and coming up with the design before starting to code and inputting content. Trends that I found in my research included a minimalist and simple aesthetic, photo-centric layout, and online consultation capabilities.
To determine organization and navigation, I first created a sitemap, then sent it to the salon for approval.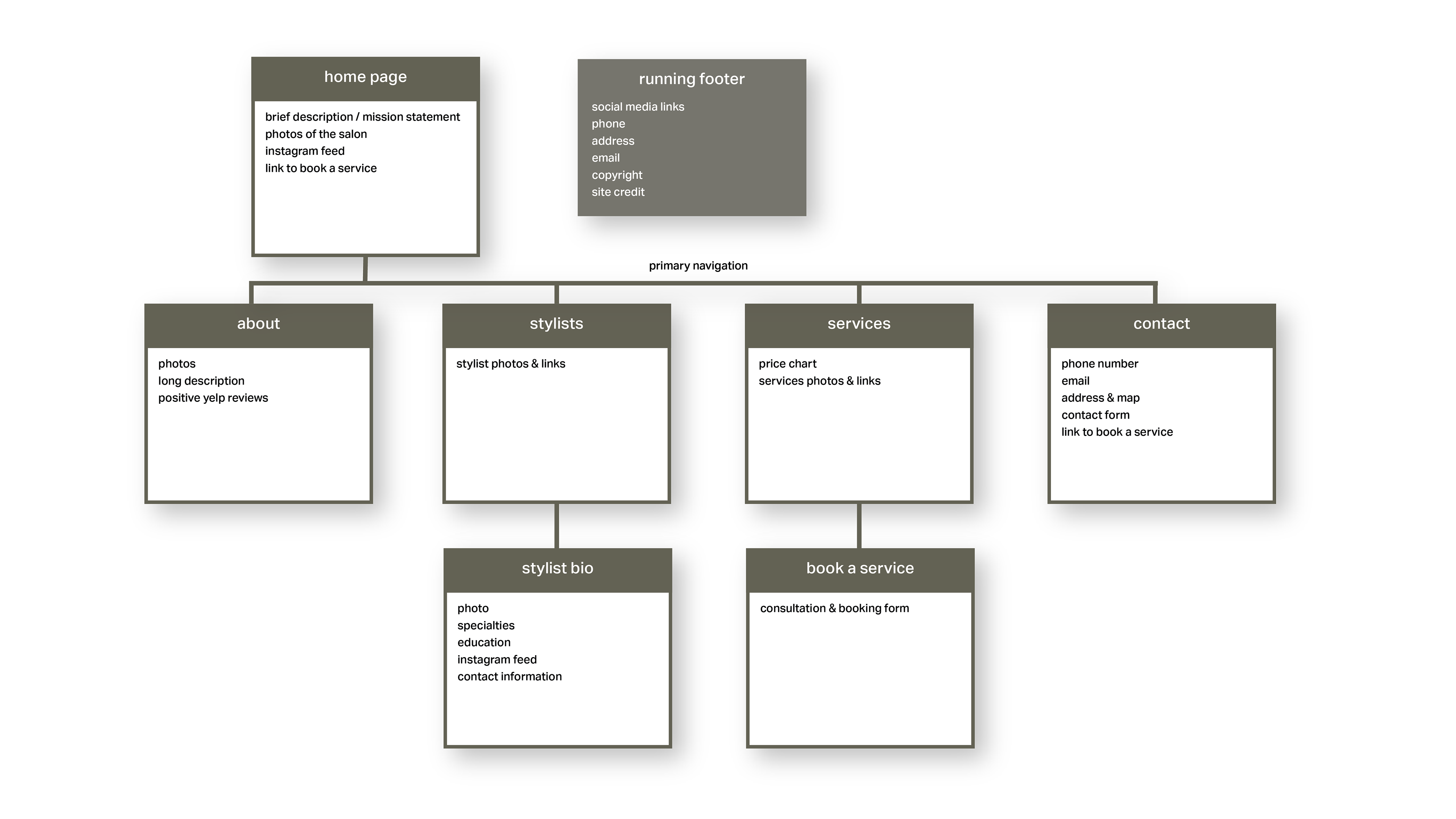 I then created some wireframes in Adobe XD to brainstorm the layout of the site. Once I got them to a place that I liked, I began to choose the typefaces, colors, and styles.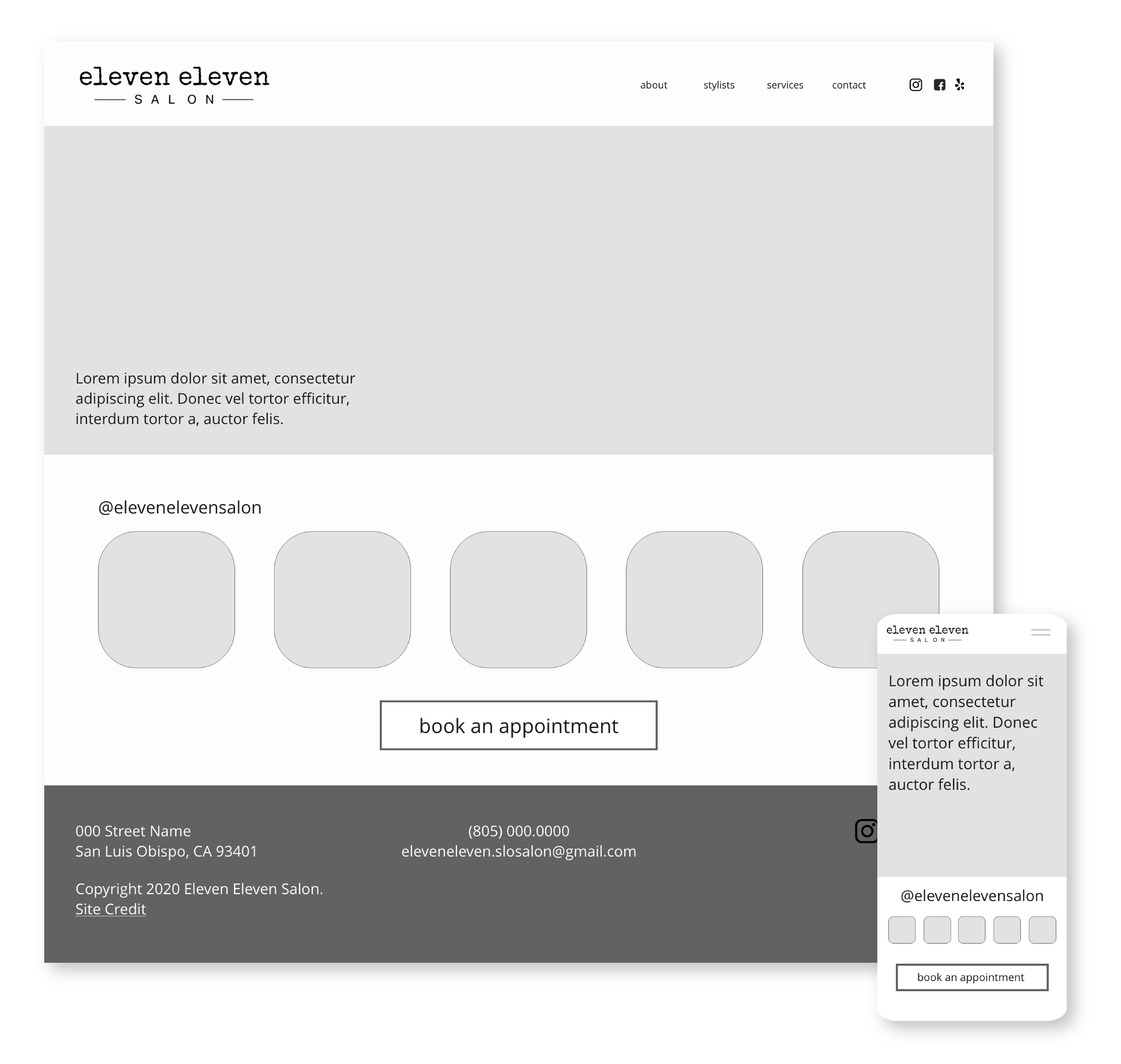 I decided to build the website in Squarespace, as my client has no knowledge of HTML/CSS code, and I want her to be able to edit the site whenever she needs. However, I still stuck to the design I had created in my wireframes, and was able to customize the CSS of the website. I spent a lot of time writing the CSS so that every element of the site behaved how I wanted it to.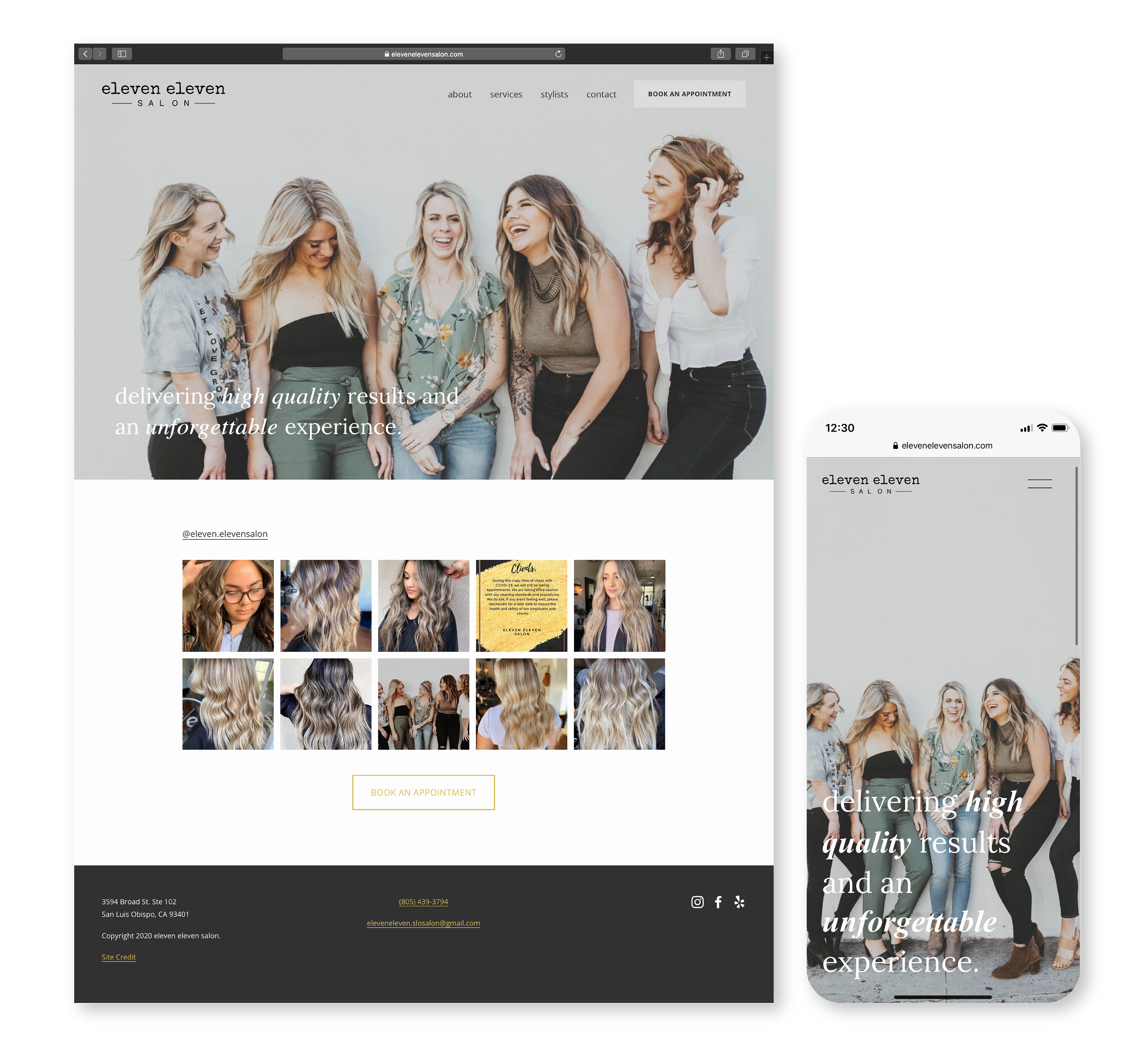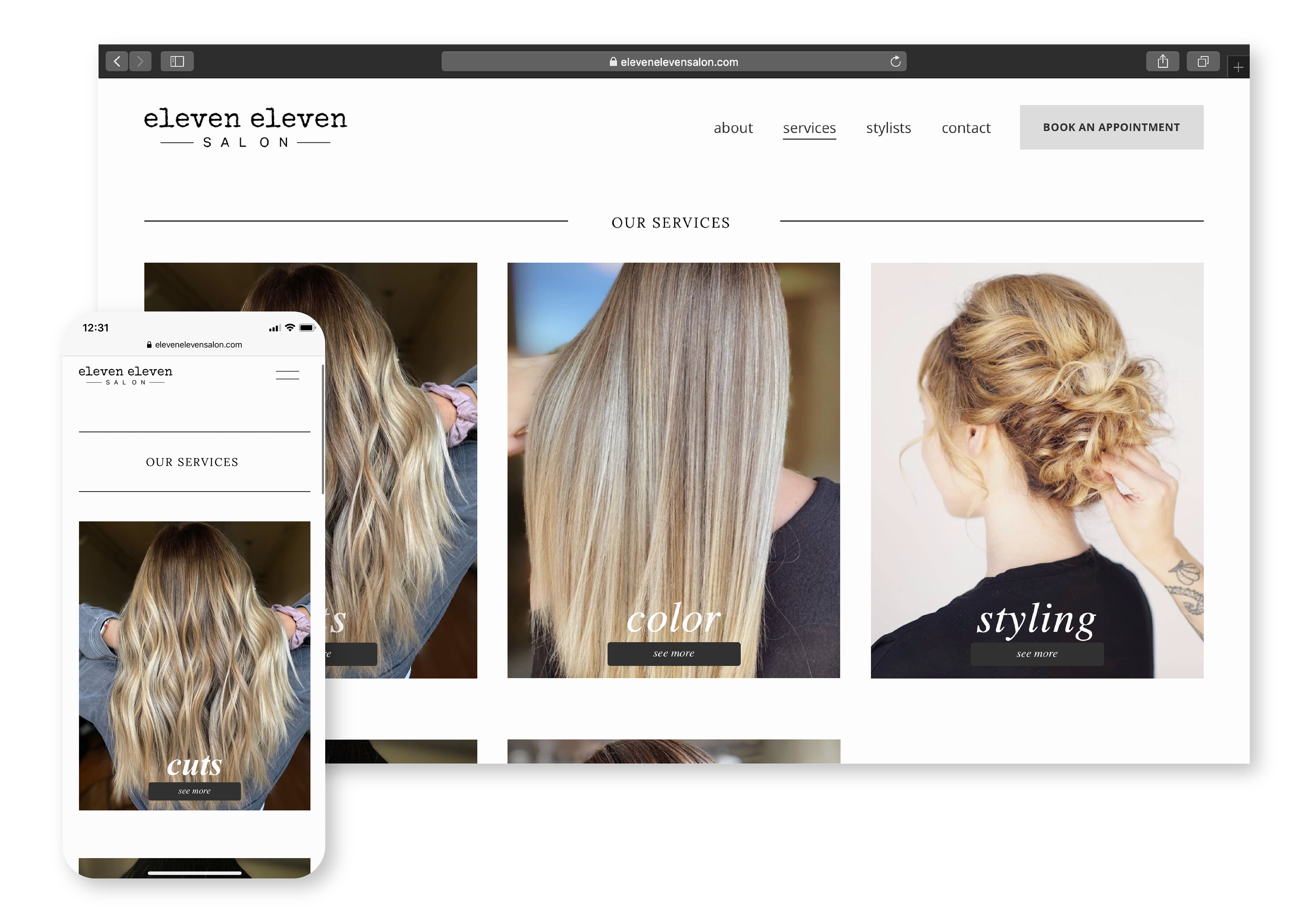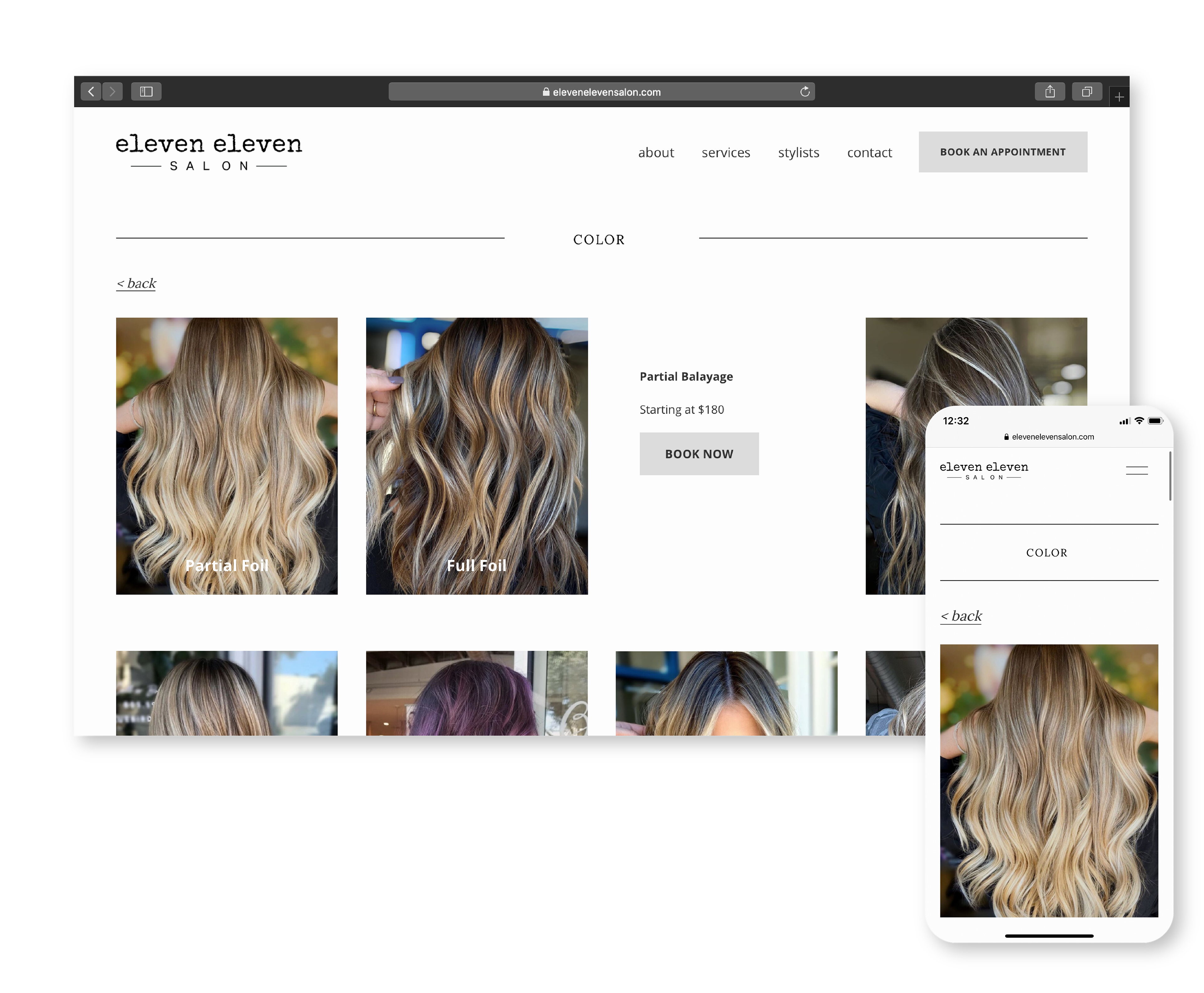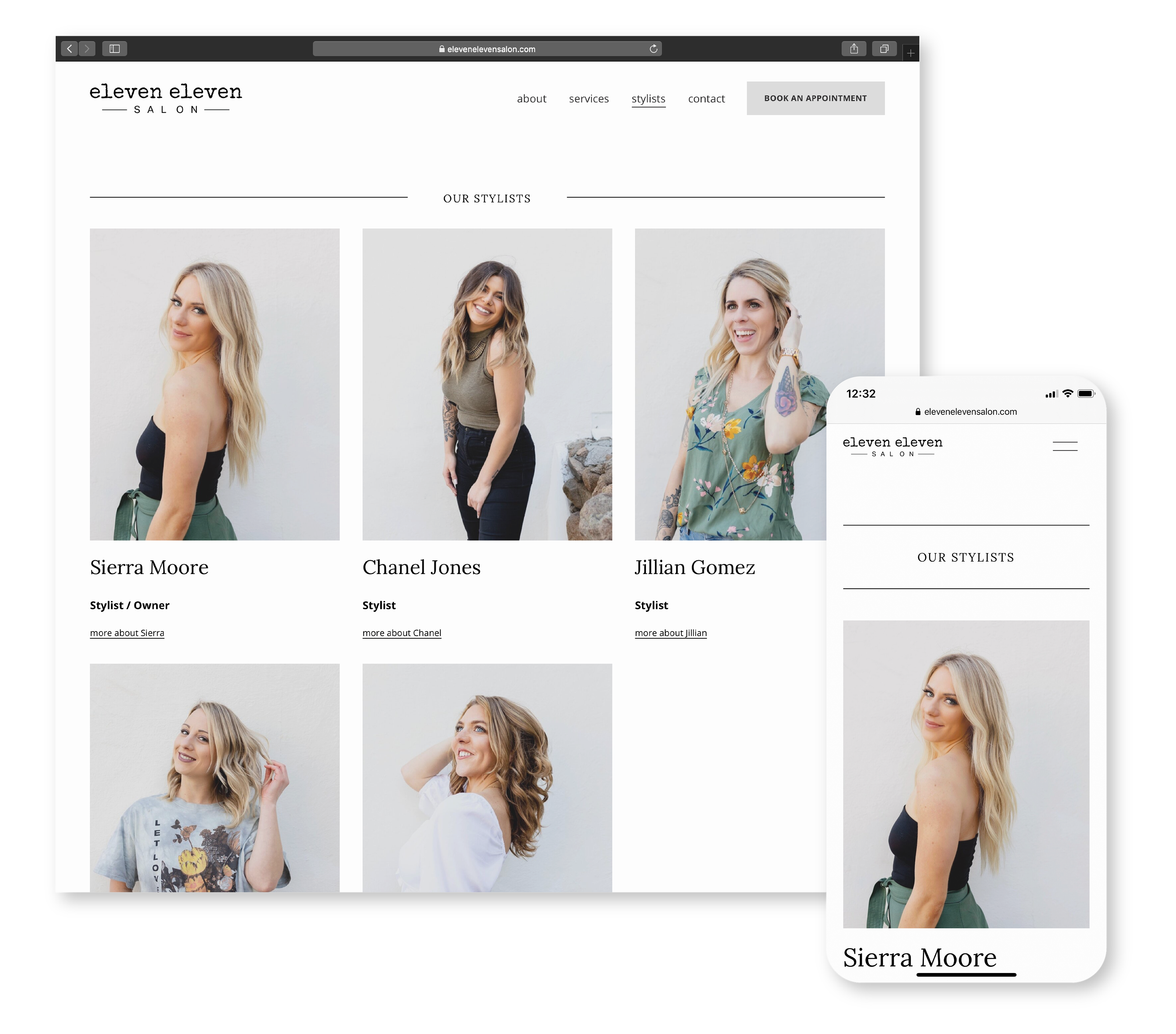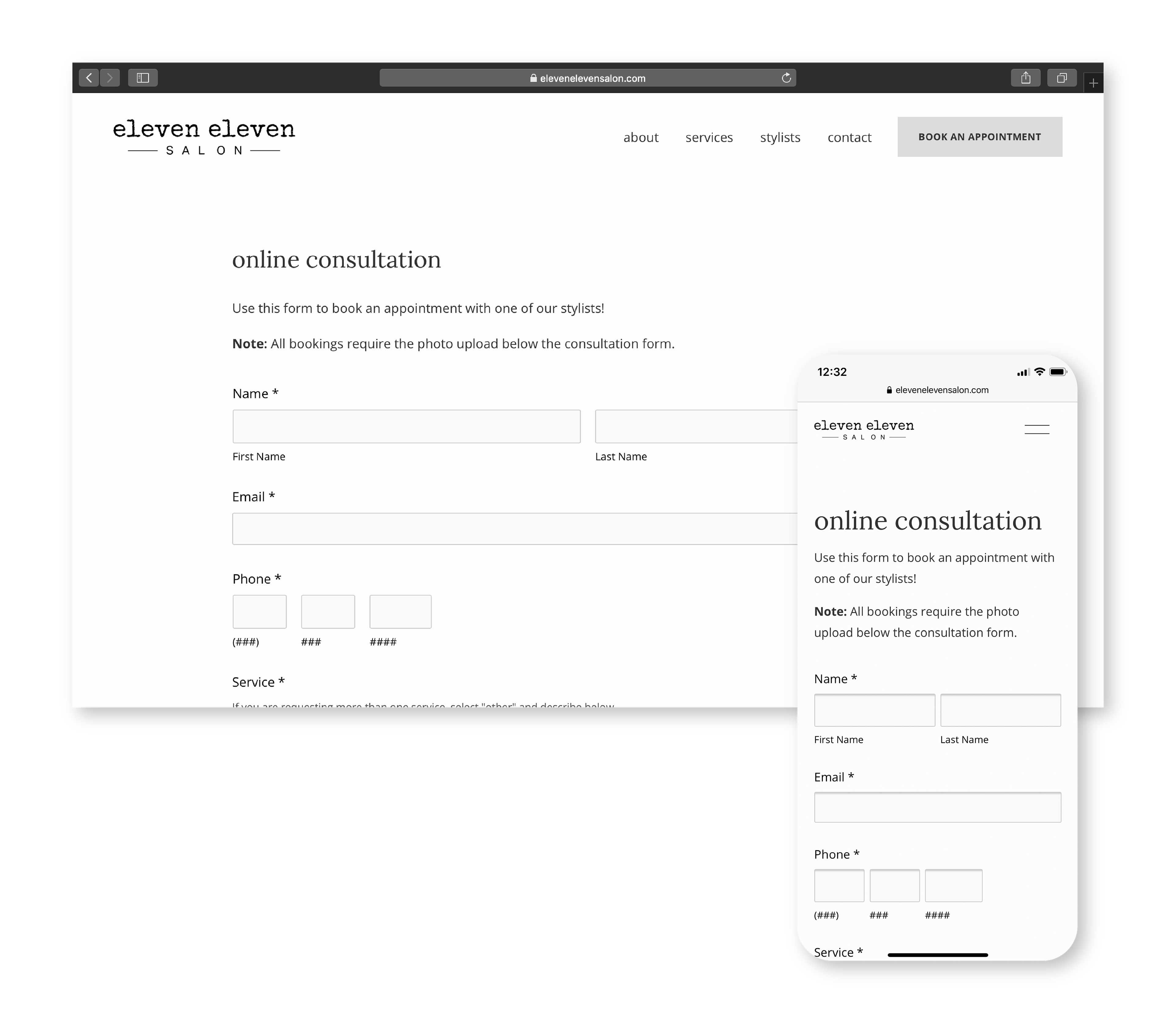 Style Guide
To define typography, colors, and logo usage, I created a style guide. This will act as a reference for future editors of the website.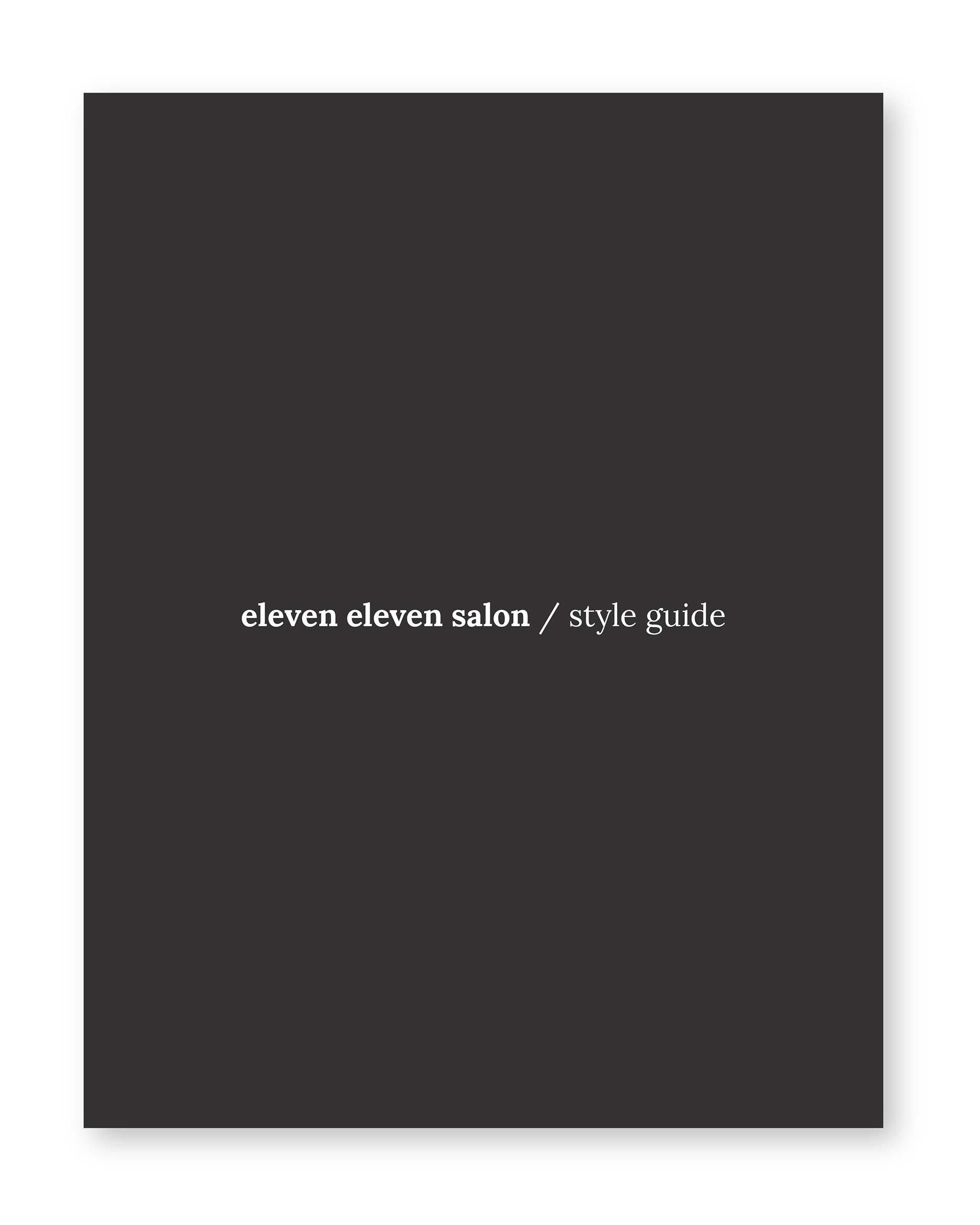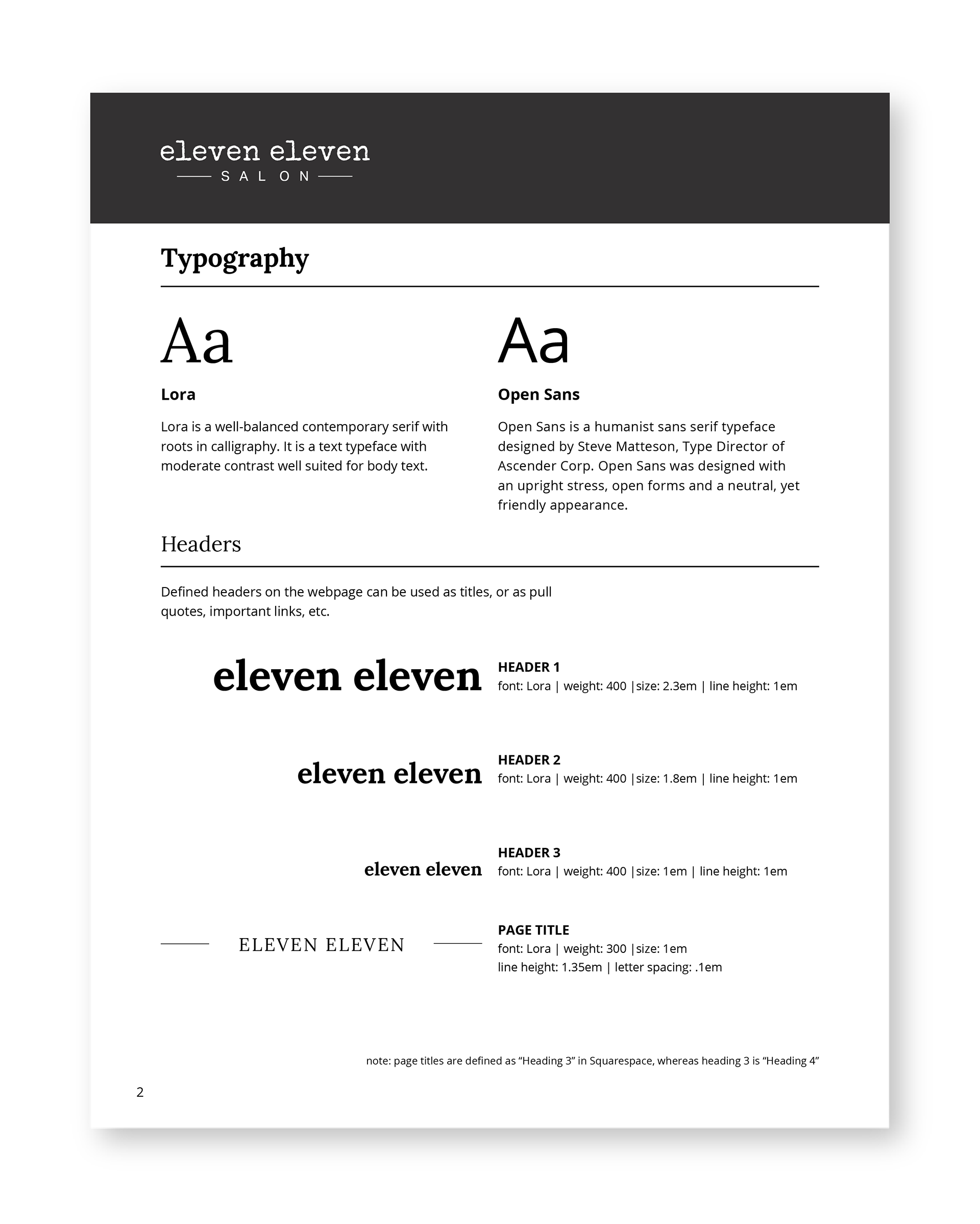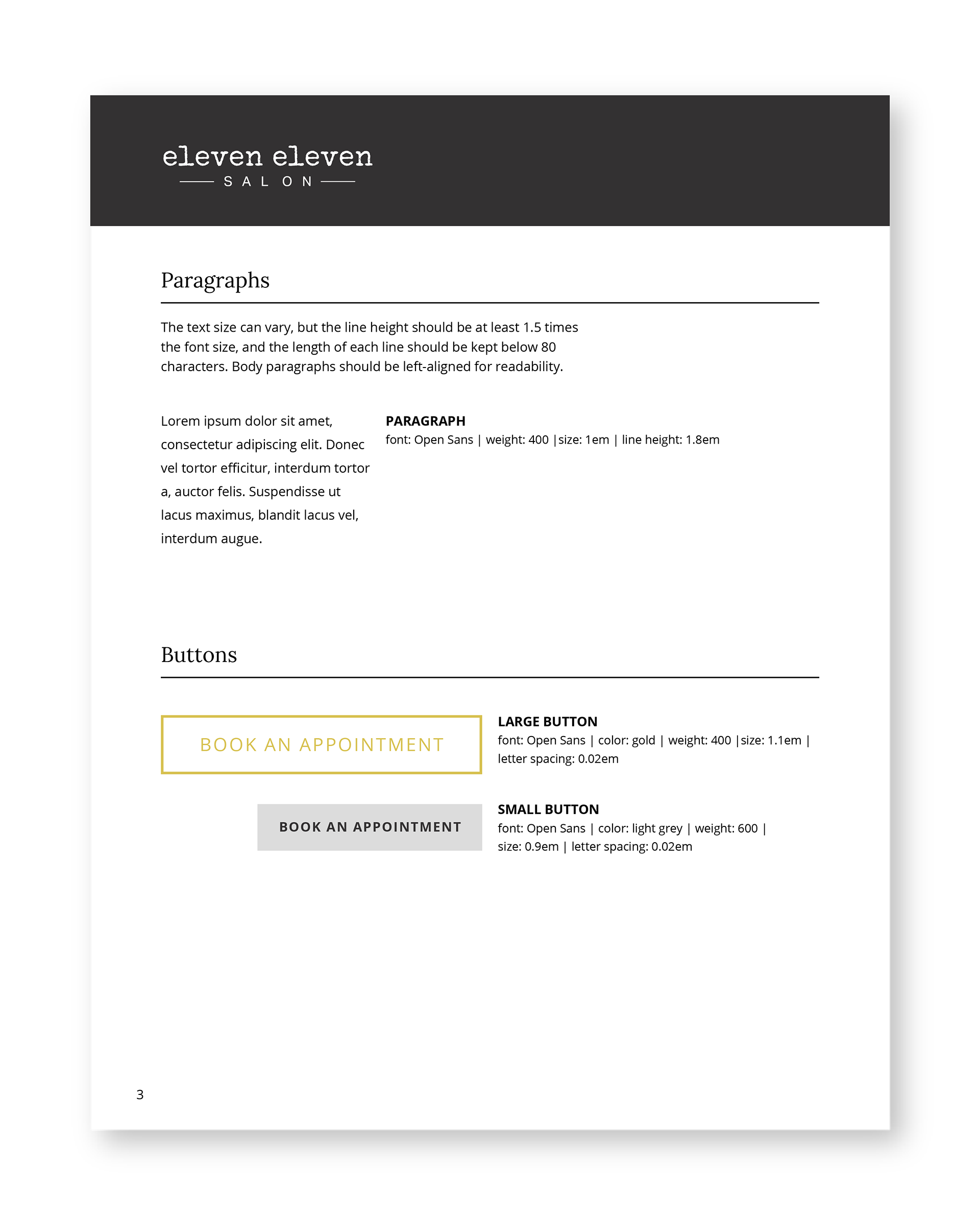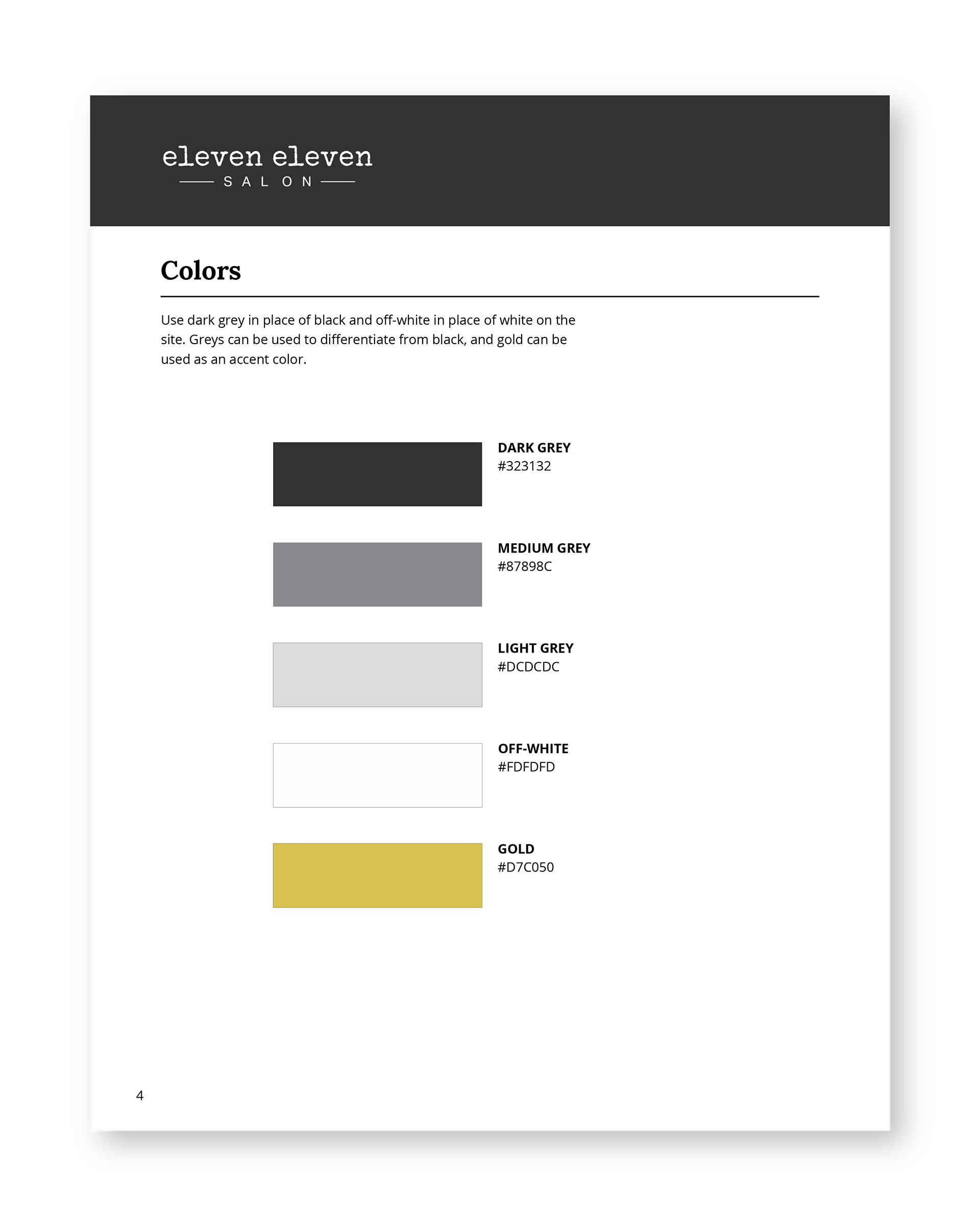 Future Considerations
This entire project was completed with the intention of longevity and usability. Websites are constantly needing to be updated, which is why I chose to create this website in Squarespace and not HTML code. My client can easily edit the content and receive appointment requests, client information, and questions. In the CSS, I added a lot of comments and labels to make it sensible to somebody who is not familiar with code.
This is the first website and brand that Eleven Eleven Salon has had, as they are a new salon. I wanted it to be practical and well-designed, not something that was trendy and would go out of style in a year or so.
The style guide is intended to guide future designers and editors and maintain the same brand that I created. I think they will find it helpful for years to come.
Senior Showcase
I was able to display my project to Cal Poly students, faculty, and visitors at the Graphic Communication Senior Showcase.